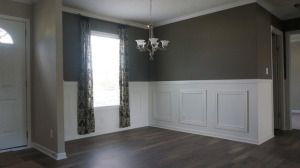 Like many dreamers, you probably have a Pinterest board made specifically for your dream home. Whether you have basic details or know the exact layout from the master bath to the library, with home designing, you will be able to bring your dream into physical existence. Home designing can finally turn your current home, or to-be-built home, into a reality.
You deserve to have the home and appliances you have always hoped for; the hard part can be making this dream come true. You may feel like money or timing is an issue, or perhaps you just don't know where to start. There are multiple websites available for you to work out the placement of rooms and the home design you are hoping to achieve, or you can hire a contractor to do this for you.
Financing is always available to those who qualify, so if you think money is an issue but have a good credit score, your dream home may be closer than you think. There are loans available for building a home, or for adding on to your current one.
If you are hoping to keep your current home and use it as a foundation for your dream home, a contractor will be able to quickly conceive the possibilities and even give you an approximate cost. This could save you the time and money of having a brand new home built and is worth looking into.
1st Choice Home Centers has the knowledge and experience to help you create your dream home. We have over 27 years of experience and offer exceptional home designing with results you will love. For more information, please contact us today.
Save