If you are currently living in an area you love, but your home isn't quite your dream home, you don't have to consider moving when you can have custom work done. Custom work is a way to re-design your home and create the abode you have always hoped to have.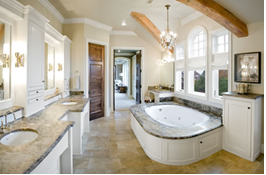 With custom work, you can save time and money. Time will be saved, since you will not have to go out and try to find an area just as good as your current one. Instead of researching mortgages or home-building loans, you can get started on the home you are already living in. This will also save you money, since you can invest in the home you already have and avoid moving and/or new home building costs.
When figuring out custom work to be done on your home, the sky is the limit– not the roof! If you would like your home to be larger, room additions can be done on the side, back, or even top of the home. This means if your family is growing, or you just want more space, you don't have to move to find it.
If the custom work you desire involves a room already in the home, like a master bathroom, a contractor can help you with the design and be able to give you an approximate cost estimate. Custom work and updating a home will increase the home's value and turn it into an investment for your property.
If you are in the Statesville, NC area and are interested in custom work on your current property, our experienced professionals here at 1st Choice Home Centers would love to help you out! If you would like more information, please call us today.