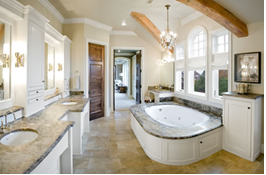 If you are in the market for a new home, there are many options to choose from. You will have to decide how much land you want and are able to take care of, or if you prefer to have all of the yard work taken care of for you. Some of your options include:
Prefab Homes: Prefab homes, or modular homes, are homes that are made from a kit. These homes are faster to build and less expensive overall. This makes the overall cost of the home lower, so they are perfect for first-time homebuyers or young families.
Custom Homes/Land: If you are ready to build your dream home from scratch, you will need to buy land. When purchasing land, make sure you buy as much or little as you want and can care for. If you live where it snows, you will need to consider the fact that you will be plowing your driveway, and pretty much no matter where you live, you'll be mowing your lawn in the warmer months.
Stick-Built Homes: Stick-built homes are homes that are built the traditional way. These homes will have higher prices and be higher in demand. You will need to look at the yard before purchasing and decide if it is a yard you will have the time and patience to take care of.
Multi-Family Housing: If you are not a fan of yard work and like the convenience of city living, you will want to look into multi-family housing. These are usually apartments and condos. You will have HOA fees along with your mortgage payment; this usually pays for bonus utilities, such as exercise rooms and swimming pools.
If you are interested in building a prefab custom home, our team at 1st Choice Home Centers is here to help! To set up an appointment, or for more information, call us today.
Save
Save