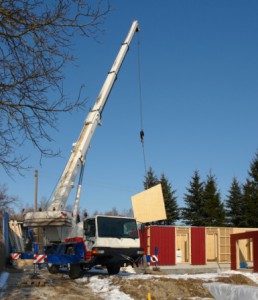 Modular houses are built in a factory and then transported to a building site where they are assembled. A well-built modular home looks just like a conventionally-built house, and you often can't tell the difference. There are a few things to consider before purchasing a modular home.
Mobile vs. Modular
Although they are commonly confused, mobile homes and modular houses are completely different. A mobile home is built to conform to a construction code known as HUD (Housing and Urban Development). A modular home, on the other hand, falls under whichever building codes are in effect where it is going to be assembled. Because the HUD code is very restrictive, most mobile homes look similar in overall appearance and shape. Modular homes, however, come in many different sizes and shapes.
Building vs. Buying
You'll need to decide whether to build a new home from scratch or buy an existing one. An existing modular home is often cheaper than houses constructed by other methods. If you want a new modular house, you will need to buy land with a solid foundation.
Customization
Don't assume that just because a modular home is prefabricated, it can't be customized. Many manufacturers of modular houses have predesigned plans that you can customize to suit your needs. Some companies even work with their clients to create completely customized dream homes.
At 1st Choice Home Centers in Statesville, NC, we offer a variety of home styles, whether you are looking for a customized house of your dreams or a prefab home that's more affordable and economical. We also offer financing options. For more info, please contact us.